Skip to main content
In 1995, Vanderbilt's first graphical homepage (below) debuted. This version had a clickable imagemap with hotlinks to major parts of the University.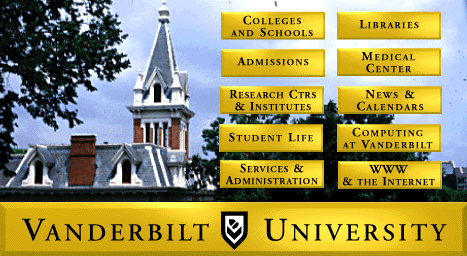 Welcome to Vanderbilt University's web server. Founded in 1873,Vanderbilt is a private comprehensive teaching and research institution with undergraduate, graduate, and professional programs offered through the ten schools and colleges of the University. Vanderbilt is located in Nashville, Tennessee.
[Colleges and Schools| Libraries | Admissions | Medical Center | Research Ctrs and Institutes |
News & Calendars | Student Life] Computing at Vanderbilt | Services and Administration | WWW and the Internet |
---
Copyright © 1995 Vanderbilt University. For moreinformation contact www@vanderbilt.edu.